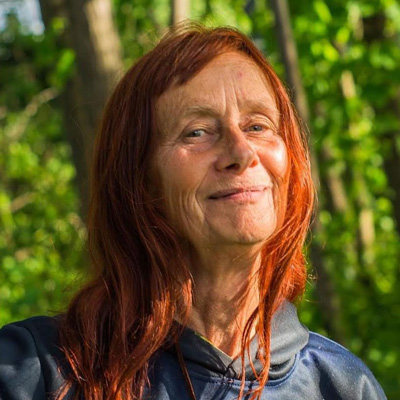 Rani Spets Edgren
Founder and teacher of the Prana Visions School of Professional Breathwork Practitioners, swedish breathwork practitioner, personal development trainer, spiritual advisor, coach. In 1988 she graduated Sweden's first Breathwork School, Wäxthuset Väddö AB Breath Training.
She studied at the Osho Rajneeshdam Centre in Poona, India and Humaniversity in the Netherlands; registered with the Swedish Rebirther Association. Since 1990 she has conducted trainings for teachers-practitioners of breathwork and open workshops, among others in Sweden, Poland, Estonia, and Great Britain.
Privately, mother of three adult children and grandmother of six grandchildren. Vegan, marathon runner, travels around the world.
She lives the way she teaches. She draws inspiration from the work of Osho, Rajneesh, Eckhart Tolle, Byron Katie, Stephen R.Covey.
Rani works with deep inner freedom and deep inner silence, constantly raising her level of awareness and full presence. Personal freedom, living a creative and fulfilling life, in harmony and with respect for self and others are Rani's priorities.
Each meeting with Rani is about discovering together your best sides and returning to your own inner WISDOM, JOY, and VITALITY.